http://www.nytimes.com/2016/09/30/us/ex-marine-describes-violent-hazing-and-the-lies-that-covered-it-up.html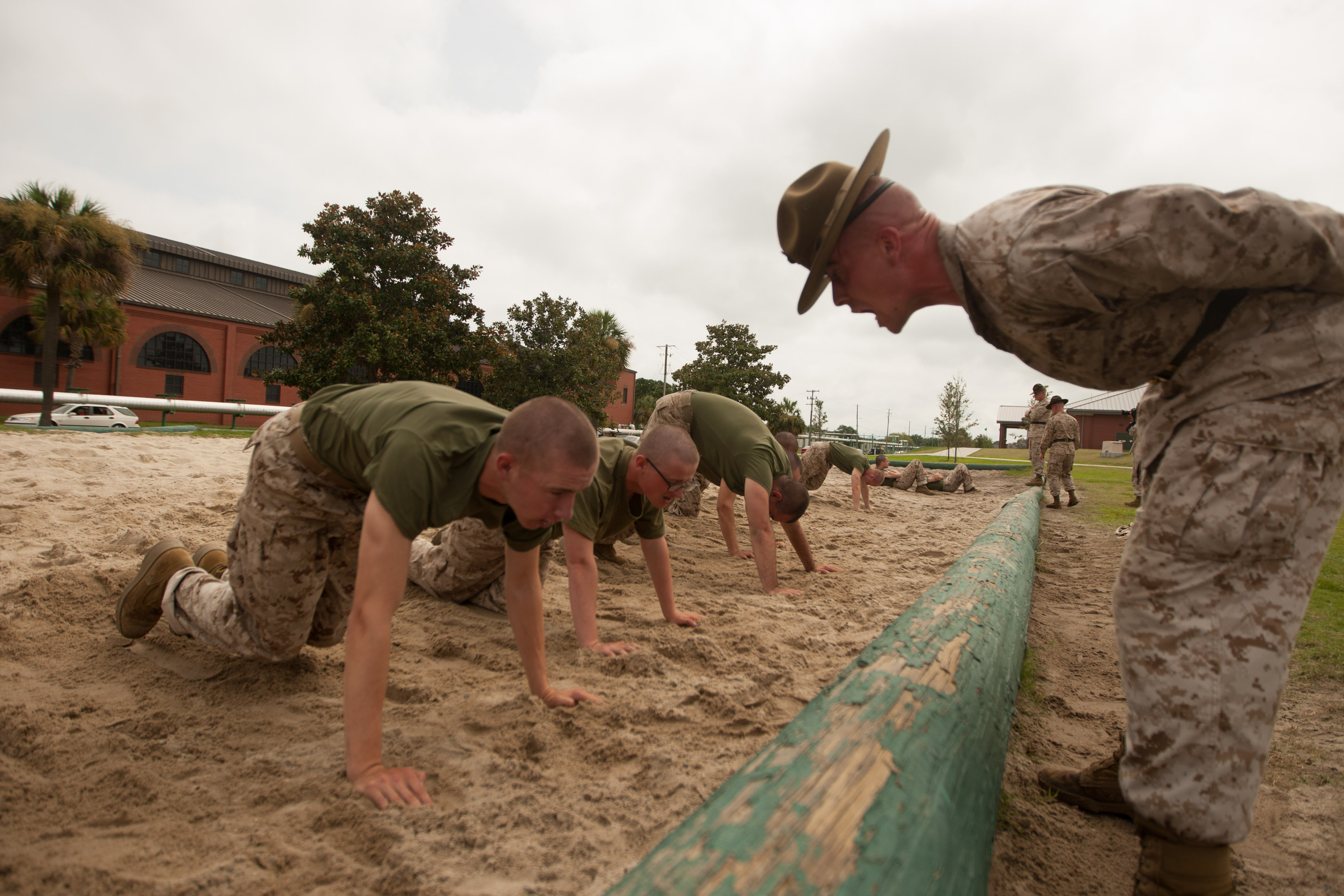 Spending time in the "pit" - Courtesy Marines.mil
Thomas Weaver's
story of abuse and over-the-top hazing at Parris Island should be troubling to both Marines and civilians alike. Ten days after graduating High School in rural Rhode Island, I was stepping on the yellow foot prints in front of the Reception Battalion at Marine Corps Recruit Depot, Parris Island. That, as they say, is where it would all begin.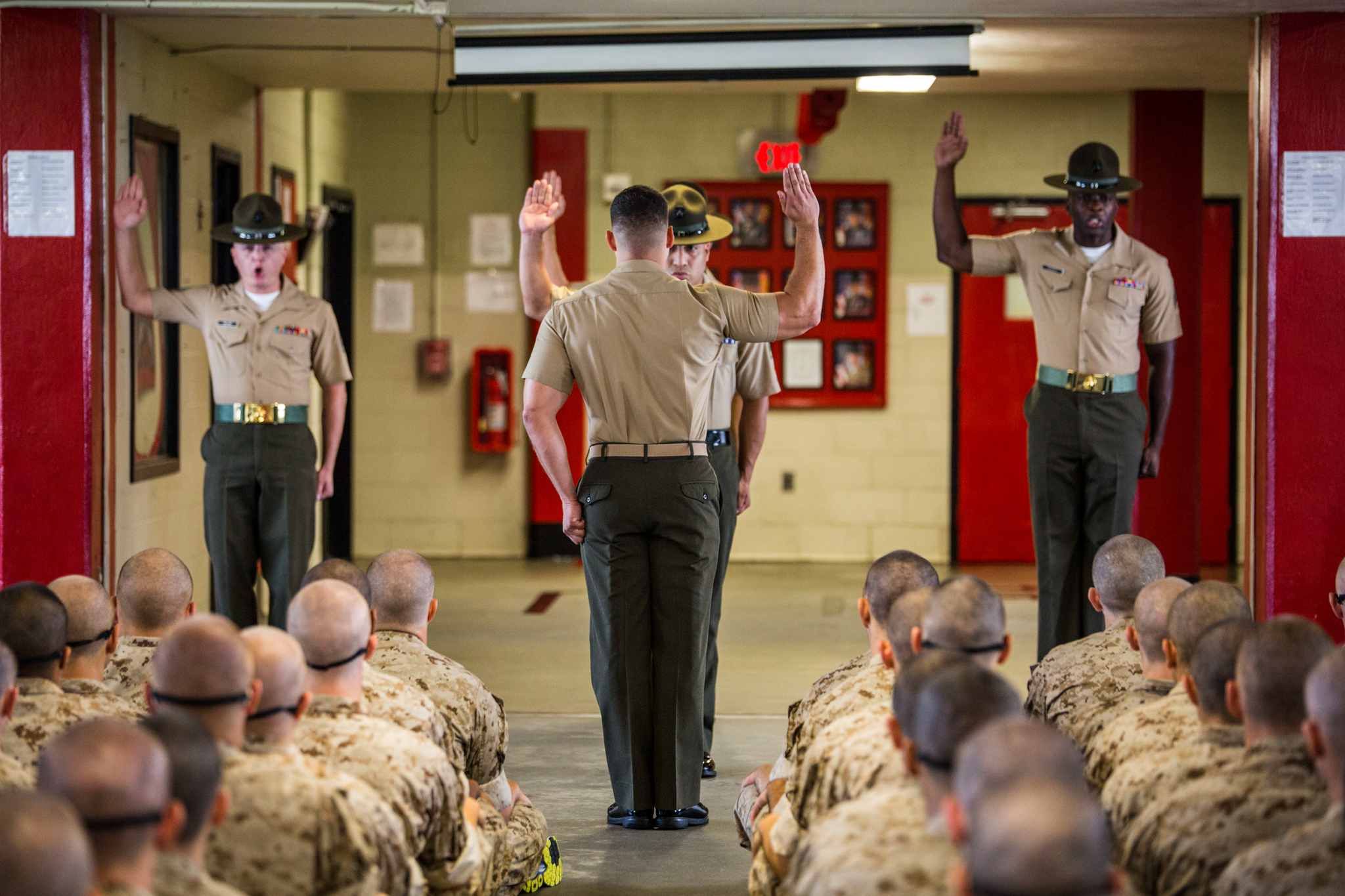 Drill Instructors being Sworn In - Courtesy marines.mil
Unlike Mr. Weaver, I was not a "top notch" recruit. I was an English and History nerd among football players and wrestlers. Having never been the athletic type, I struggled to make a first class fitness score. During my teenage years, however, I maintained a strict fitness regiment that would keep me from becoming a total slob.
During a training evolution, I was harassed by my Senior Drill Instructor for failing to complete a wall climbing obstacle on the confidence course. My punishment was to do push ups and mountain climbers in the hot mulch, along with a group of other recruits that could not physically negotiate an obstacle. The Senior DI knew my hands had large open sores on them from being torn apart in a previous training evolution. I was in agony. He barked at usto push harder, and threatened to drop me to another Platoon if I didn't perform to his liking. I was sure this was what Hell was like.
Despite all this, I knew this training was designed to push me to my physical, emotional, and mental limits. As someone who had volunteered into the Infantry, I knew a combat deployment was likely and imminent. After all, the War in Iraq was just ramping up. The Battle for Fallujah had just occurred. Marines were fighting and dying constantly in Afghanistan and Iraq. If I didn't push myself to exhaustion at Parris Island, I would fail my team mates when the first battle erupted in whatever theater I would be sent into. General George S. Patton once said, "A pint of sweat will save a gallon of blood".
There were other moments where I hit the proverbial wall, but I won't get into them. I felt insecure. Worthless. Weak. Depressed. Homesick. I questioned myself hundreds of times a day, but that drive to make it through to the other side continued to burn inside me, even when I thought that flame was extinguished. My motivation came from my best friend Marc who had joined me as my boot camp buddy. He was a hard charging squad leader who always had my back. I'm grateful that we were able to experience the Island together.
We had heard how recruits in the Third Training Battalion were roughed up much more than those of us in First and Second Battalion. This was mainly due to their location on the Island. Far away from prying eyes of Command Staff (senior Officers and Staff-NCOs), compared to the other Battalions which were within earshot of the Command HQ. Still, some of Weaver's accounts seem to be highly exaggerated.
Clearly, however, there were some seriously screwed up things that occurred during his stay at the beautiful Casa de Parris Island. Sticking a recruit in a hot clothes dryer is not training. It is not OK to target a recruit based on their race / religion / ethnicity / sexual orientation. Why? Because in combat, none of those things matter. What does matter is how effective you are at your job. How well you can place rounds on target. How well you communicate during the fight. How you react to the chaos of a battle. Those things have NOTHING to do with the color of your skin, what religion you follow, or what gender you are attracted to.
I feel sorry for the recruit who thought the only way out of Basic Training was to leap to his death. I feel for his family and his friends. No one should ever feel like they've been targeted to the point where suicide is the only escape, ESPECIALLY in a professional institution like the United States Marine Corps. I don't know what your personal experience is with the Corps, but it is absolutely the most professional fighting organization the United States has to offer.
Leaders don't throw their subordinates into dryers. Leaders don't target their subordinates for their personal or cultural values. I understand that boot camp is designed to strip the civilian away from the recruit. I hear all this crap about "Oh, well the Sergeants are training them for combat." No. That is not the purpose of Basic Training. They're training them in customs & courtesies, Marine Corps history, and the fundamentals of what it means to be a U.S. Marine.
Let the Combat Instructors at the School of Infantry simulate combat situations. Let the combat experienced Team Leader in the Fleet show them the ropes of a combat deployment. Personally, my time at Camp Geiger's School of Infantry was much more physically demanding than anything I had done in Parris Island, but due to the mental fortitude I had gained in boot camp, I was able to keep my nose to the dirt and focus on becoming an effective Infantry Marine.
Every recruit deserves a chance to become a Fleet Marine. Thanks to their arrogance, poor leadership, and dereliction of honor, twenty Marines are facing charges. These are probably Marines that would have otherwise had stellar careers. Some of them are simply being dragged into the mud because they held leadership positions above these cruel Sergeants. The United States needs every volunteer service member it can get as we approach our sixteenth year in America's longest conflict.